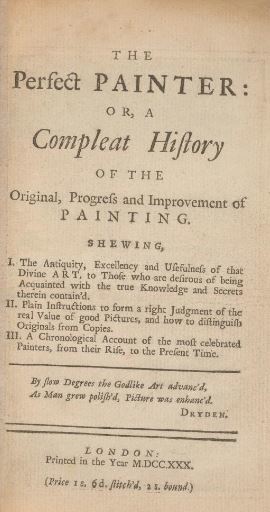 BELL, Henry, The Perfect Painter : or, a Compleat History of the Original, Progress and Improvement of Painting. Shewing, I. The Antiquity, Excellency and Usefulness of that Divine Art, to Those who are desirous of being Acquainted with the true Knowledge and Secrets therein contain'd. II. Plain Instructions to form a right Judgment of the real Value of good Pictures, and how to distinguish Originals from Copies. III. A Chronological Account of the most celebrated Painters, from their Rise, to the Present Time, London, s.n., 1730.
BELL, Henry, An Historical Essay on the Original of Painting. Wherein is Exhibited I. Some Probabilities and Pretentions to its Invention before the Flood. II. Its Commencement again after the Flood, and its Progress through several Nations to the Time of Cimabue, An. 1276, London, J. Worrall, 1728.
SALERNO, Luigi, « Seventeenth-Century English Literature on Painting », Journal of the Warburg and Courtauld Institutes, 14/3-4, 1951, p. 234-258 [En ligne : http://www.jstor.org/stable/750341 consulté le 30/03/2018].
COLVIN, Howard, « Henry Bell of King's Lynn », Architectural History, 4, 1961, p. 41-62 [En ligne : http://www.jstor.org/stable/1568244 consulté le 04/04/2018].
HAYNES, Clare, « In the Shadow of the Idol: Religion in British Art Theory, 1600–1800 », Art History, 35/1, 2012, p. 62-85 [En ligne : https://doi.org/10.1111/j.1467-8365.2011.00869.x consulté le 30/03/2018].