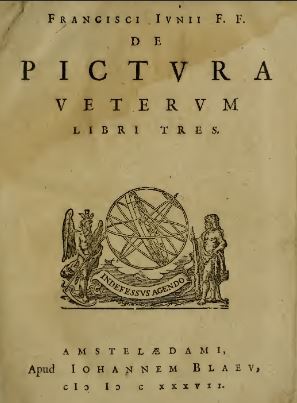 Dedication
Charles I, King of England
JUNIUS, Franciscus, The Painting of the Ancients, in Three Bookes : declaring by Historicall Observations and Examples, the Beginning, Progresse, and Consummation of that most Noble Art. And how those Ancient Artificers attained to their still so much admired Excellencie. Written first in latine by Franciscus Junius, F. F. And now by him englished, with some Additions and Alterations, trad. par JUNIUS, Franciscus, London, Richard Hodgkinsonne, 1638.
JUNIUS, Franciscus, De Schilder-konst der Oude, Begrepen in drie Boecken, Middelburg, Zacharias Roman, 1641.
JUNIUS, Franciscus, De pictura libri tres, tot in locis emendati, et tam multis accessionibus aucti, ut plane novi possint videri : accedit Catalogus, adhuc ineditus, architectorum, mechanicorum, sed praecipue pictorum, statuariorum, caelatorum, tornatorum aliorumque artificum, et operum quae fecerunt, secundum seriem litterarum digestus, GRAEVIUS, Johannes Gregorius (éd.), London, Samuel Smith & Benjamin Watford, 1694.
JANSEN MA, Wieneke L., « Translations of Longinus' Sublime Terminology in Franciscus Junius' "De pictura veterum" », dans HECK, Michèle-Caroline, FREYSSINET, Marianne et TROUVÉ, Stéphanie (éd.), Lexicographie artistique : formes, usages et enjeux dans l'Europe moderne, Actes du colloque de Montpellier et Paris, Montpellier, PULM, 2018, p. 395-407 [En ligne : http://dx.doi.org/10.26530/OAPEN_644313 consulté le 15/03/2018].